Home »
Home
Random top videos picked from all categories:






---
Latest news
Update #21 - Laugh or we will all go insane
April 18th 2021

One of the reasons I'm putting in extra hours with Cornica is to sort of create an escape capsule for all of us. Out of this crazy world, back into the save harbor of our youth! So join me and let Cornica and Quicktime take you back in time! Like, remember how we laughed when Bill Gates publicly got a pie in his face?

If you grew up with 70's Sci-Fi or watching the re-runs on saturday morning, Dronecatcher uploaded some great stuff for you: Blake's 7 and Space1999! He also supplied us with Medusa Touch - contributing to more British-ness on Cornica. Splendid!

We also welcome galgot as a new contributor, uploading the intro of F/A-18 Hornet 3.0 (excellent Mac flight sim!) and a PowerBook 100 animation he created in Blender. Thank you!

So what about the laughter? Head over to the updated Fun & Comedy category. New highlights are the iPod Flea and the German Coastguard - among others!

And then there's a project it'd love to point out to everyone because I think it's awesome: MacFlim. It's a highly optimized movie format that allows video playback on black&white Macs like the SE/30. If you ever wanted to watch full-screen video on your old Mac SE who can't do Quicktime, check out MacFlim!
Update #20 - Please leave a comment after the *beep*
March 27th 2021

Did you notice the subtle change to our navigation bar? It was made to accomodate our new-old 90's style guestbook. Feel free to share a comment with the world - how do you use Cornica, what hardware do you use, where are you from etc. it's always awesome to hear from you!

Also, take a look at our recent updates - thanks to z970's sharing a huge collection of Quicktime media, we've got a good bunch of new Apple commercials waiting for you. Can't ever have enough of them!

We're also welcoming Katie Cadet to our uploaders, supplying us with two movie trailers (Stargate & Mrs. Doubtfire). Thanks and keep going, Katie!

When I started Cornica, I dreamt of a tutorials section full of videos with tips & hints about our beloved Mac OS - videos that you could actually watch on the very machine they are about! Until now, videos have been scarce but now we've got a whole bunch of tutorial videos - from tips on disabling the start-up memory test to resediting icons. More to come soon!

That said, we still eat Quicktime movies for lunch! If you got some, please donate yours via our contribute section.
Update #19 - Happy Birthday, Cornica
March 7th 2021

Cornica turns 1 year old! Well, truth to be told, Cornica 2.0 does! For the sake of historical accuracy, let's not forget that Nicolas Bahamondes started it all years ago. Still, reason to celebrate - finally Quicktime videos have a little spot of their own on the internet!

Birthdays are a perfect occasion to look back and into the future. What was accomplished in one year? Well, we went through two redesigns until settling down with the current design. I've spent hours trying to find the best codec settings in regards to quality / file size. And a total of 358 Quicktime videos have been uploaded. Yes, the Power Mac G4 MDD running at a dual 1.67 Ghz has been busy preparing all those videos for us :-)

What I'd really like to have is more Mac OS (X) tutorial videos. The "how do I .." type of videos. I'm thinking about doing a few myself but I welcome any helping hand. If you feel like it'd be a fun thing to plug a micro into your iBook G3 and start recording short tutorials, drop me a line, please.

I'd also like to seize the opportunity to thank our uploaders Dronecatcher and z970 for sharing their Quicktime gems! Since Cornica is a one-person project (a person with three kids and a full-time job) I really appreciate the help.

Speaking of help, we've got mentioned in 65scribe's latest video on the Power Mac 8100 (Youtube compatible browser needed) and if you haven't yet, check out his channel on YouTube. Totally worth it! Need to think about how to bring this 40 minute episode to Cornica ...

As frequent visitors know, I keep thinking about how to make Cornica better known in the retro community. One thing I remember from the "good ol' days" are badges that folks can put on their websites. Thus I've created a classic 88x31 badge (and a slightly bigger one) for you to put on your retro computing related website if you want to support us. Let me know if you do and I may link back to you!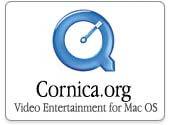 Update #18 - Commercials February & The Amiga
February 11th 2021

Truth to be told, this was not a single update. If you hung around the site lately, you probably ran into a lot of new content uploaded during the few weeks. And you've probably found the new Amiga category. That's right - the Commodore machine has its place on Cornica too now.

So what exactly IS new? Tons of great quicktime material - and I'm not exaggerating. Do you know the Pencil Test video Apple created in 1988 to show off the Macintosh II?

Or the infamous Knowledge Navigator video from 1990, which was Apple's (read: John Sculley's) vision for the future?

We've also got a good dozen of new Mac commercials in our datase, simply too many to list them all here.

Cornica needs you!
We've already got a steady bunch of loyal visitors. But I keep running into dedicated retro Mac users who never heard about Cornica and its mission. Please spread the word, mention Cornica on your website, on facebook or your favorite forums. I highly appreciate every support!
---